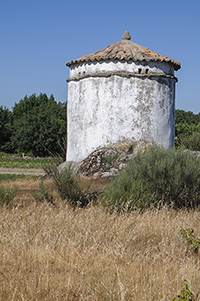 Dovecot near São Pedro de Rio Seco.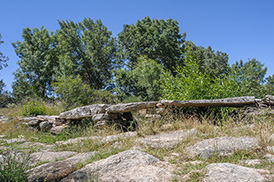 Bridge over the Tourões
brook near Vilar Formoso.
The trail will provide you with numerous opportunities to observe examples of what is commonly referred to as popular architecture, or architecture without architects. Traditional building methods are based on an economical use of resources, so locally sourced materials prevail, such as stone, timber and clay.

The villages still have many buildings that reflect this popular style, with some even being rebuilt in the same style. Reflecting the diversity of stone available, we can distinguish between buildings made of granite, slate and sandstone.
Away from built-up areas, you will come across bridges, stone walls, huts, dovecots, wells with their sweeps... a treasure-trove of useful, handcrafted items that are still in use today.