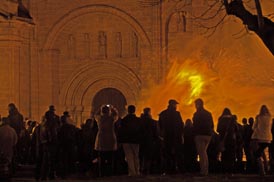 Bonfire of San Sebastián
beside the Cathedral in Ciudad Rodrigo.
The calendar of festivals and cultural events is well stocked.

We recommend you visit the following links to ensure you make the most of your trip along the GR 80 to take part in some of these activities.
Calendar of events: festivals, processions and special occasions (interactive page: public website where people can register-upload their own events).