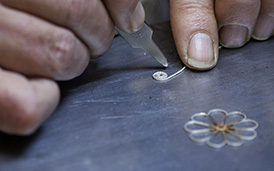 Charro Filigree
There are now only a few surviving examples of the former diversity of local arts and crafts.

A highlight in Almeida is the pottery decorated with local motifs, cane chairs, fabrics and embroideries.

Ciudad Rodrigo has the popular local charro silverwork, ceramics and cowbells. It is also famous for the continuation of a long tradition of leatherwork, as well as its embroidery. Salamanca's pastoral art is one of the most important in Spain.