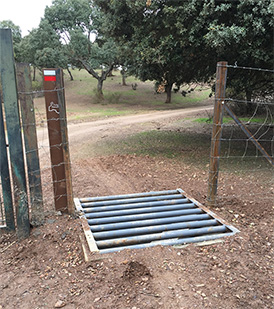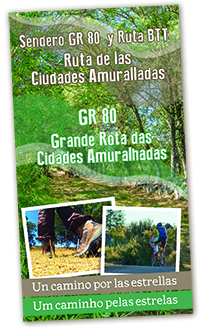 Image of the brochure's cove
The 110 km trail running between the walled cities of Ciudad Rodrigo (Salamanca, Castilla y León, Spain) and Almeida (Beira Interior Norte, Portugal) provides an opportunity to discover on foot, by bike or on horseback, lands with an abundance of natural and cultural resources. The star-shaped layout of the military fortifications in the area lies behind the route's slogan: a journey through the stars.
Following paths that in centuries past were travelled by armies, peace now reigns on the route and enables us to quietly enjoy the landscapes of these frontier lands. Both the variations in the physical environment itself and a traditional form of human occupation have led to the preservation of considerable biodiversity.
The cultural heritage is also outstanding. The fortified bastions of Ciudad Rodrigo, Almeida and Aldea del Obispo provide an exciting array of military architecture. The route also passes by the prehistoric rock-art site - Estación de Arte Rupestre - of Siega Verde, declared a World Heritage Site together with the nearby site of Vale do Côa (Portugal).


TECHNICAL DATASHEET
Overall length: 110 km
Total time on foot: 6 days - 19 h
Total time by bike: 1 or 2 days -9 h
Circular route. On foot, by bike, or on horseback
Average difficulty (MIDE 2): Long, gentle slope. The trail is generally wide
Cumulative elevation gain: 1,270 m
Altitudes: Maximum, 794 m. Minimum: 610 m
Recommended gear: Boots, drinking water, and cap or hat
Recommended times of the year: All the year round.
Not recommended in heavy rain.
Considerable precaution is to be taken in winter due to severe frost and/or snow
Coordinates: Almeida, N40 43.331 - W6 54.325. Ciudad Rodrigo, N40 35.892 - W6 32.140
Accesses: Portugal: A25/EN 332. Spain: A62/N-620
Equipment
MTB maintenance areas. Both Almeida and Ciudad Rodrigo have respective bike support facilities, fitted with an information panel, a point for downloading digital information (tracks for GPS), repair tools, and washing and showering facilities.
Infrastructure
Several small bridges have been built across some of streams with wooden structures treated for all-weather conditions.
When the trail passes through some private estates, small cattle grids have been installed, with a standard gate beside to allow cattle to pass through if necessary.
Some of the rougher stretches have been provided with a selected clay surface, guaranteeing a minimum trail width of 1 m.
SIGNS AND PUBLICATIONS
Direction signs
These are mounted on posts made of a phenolic compound, placed mainly at crossroads. Some of them have a map indicating the exact location and the distance to Almeida and Ciudad Rodrigo, respectively
In other cases, these direction signs are stickers and painted marks.
GR trail in Spain:


GR trail in en Portugal:


MTB Centre (for bikes):


Information and interpretation panels
There are 12 vertical panels set up along the trail. They have BiDi or QR codes that provide a link to this website.
Two of these panels are located in the bike support facilities in Almeida and Ciudad Rodrigo, respectively. They feature a map of the entire route and information on the trail and the main sites worth visiting. They show the stages for walking the path on foot and the profiles for each one of them. They also provide information on services.
The other 10 panels are to be found at the following points: two in Ciudad Rodrigo (North exit and South exit), and one each in Gallegos de Argañán, Fuentes de Oñoro, Vilar Formoso, São Pedro de Rio Seco, Almeida, Vale de Coelha, Aldea del Obispo and Villar de la Yegua.
These panels provide information on the main natural and cultural resources we can encounter beside or near the trail.
Publications
A folding pocket map has been published, which besides the map itself contains all the essential information for enjoying the route. A BiDi code provides a link to this website.